by John Bolton
North Korea's nuclear weapons program is where China has most disappointed the White House.
Yesterday's 2017 review and forecast for 2018 focused on the most urgent challenges the Trump administration faces: the volatile Middle East, international terrorism and the proliferation of nuclear, chemical and biological weapons. Today, we examine the strategic threats posed by China and Russia and one of President Trump's continuing priorities: preserving and enhancing American sovereignty.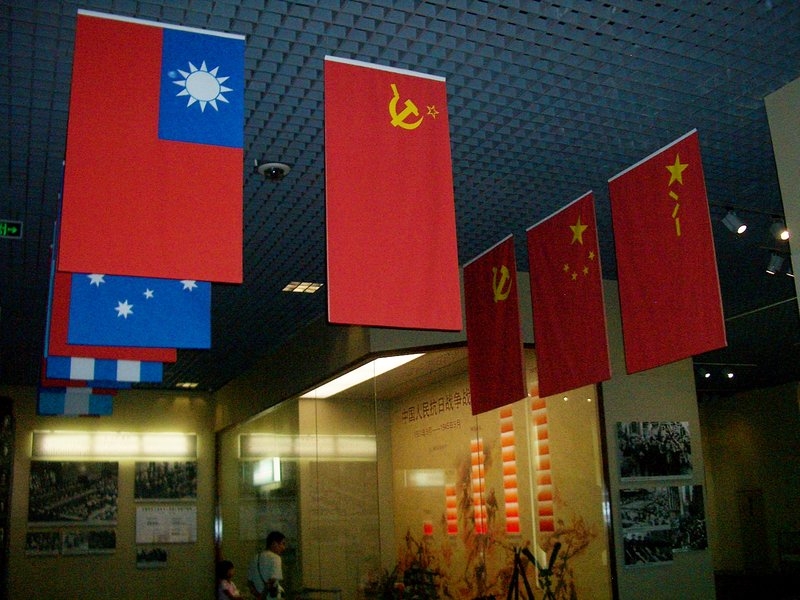 Russia and China will be among the Trump administration's key strategic challenges in the coming year. Photo: Wikipedia.
China has likely been Trump's biggest personal disappointment in 2017, one where he thought that major improvements might be possible, especially in international trade. Despite significant investments of time and attention to President Xi Jinping, now empowered in ways unprecedented since Mao Tse Tung, very little has changed in Beijing's foreign policy, bilaterally or globally. There is no evidence of improved trade relations, or any effort by China to curb its abuses, such as pirating intellectual property, government discrimination against foreign traders and investors, or biased judicial fora.
Even worse, Beijing's belligerent steps to annex the South China Sea and threaten Japan and Taiwan in the East China Sea continued unabated, or even accelerated in 2017. In all probability, therefore, 2018 will see tensions ratchet up in these critical regions, as America (and hopefully others) defend against thinly veiled Chinese military aggression. Japan in particular has reached its limits as China has increased its capabilities across the full military spectrum, including at sea, in space and cyberwarfare.
Taiwan is not far behind. Even South Korea's Moon Jae In may be growing disenchanted with Beijing as it seeks to constrain Seoul's strategic defense options. And make no mistake, what China is doing in its littoral periphery is closely watched in India, where the rise of Chinese economic and military power is increasingly worrying. The Trump administration should closely monitor all these flash points along China's frontiers, any one of which could provoke a major military confrontation, if not next year, soon thereafter.
North Korea's nuclear weapons program is where China has most disappointed the White House. Xi Jinping has played the United States just like his predecessors, promising increased pressure on Pyongyang but not delivering nearly enough. The most encouraging news came as 2017 ended, in the revelation that Chinese and American military officers have discussed possible scenarios involving regime collapse or military conflict in North Korea. While unclear how far these talks have progressed, the mere fact that China is engaging in them shows a new level of awareness of how explosive the situation is. So, 2018 will be critical not only regarding North Korea's nuclear weapons threat but also whether Sino-American relations improve or take a distinct turn for the worse.
On Russia, the president has not given up on Vladimir Putin, at least not yet, but that may well come in 2018. Putin is an old-school, hard-edged, national interest-centered Russian leader, defending the "rodina" (the motherland), not a discredited ideology. Confronted with U.S. strength, Putin knows when to pull back, and he is, when it suits him, even capable of making and keeping deals. But there is no point in romanticizing the Moscow-Washington dynamic. It must be based not on personal relationships but on realpolitik.
No better proof exists than Russia's reaction to Trump's recent decision to supply lethal weapons to Ukraine, which is now a war zone entirely because of Russian aggression. To hear Moscow react to Trump's weapons decision, however, one would think he was responsible for increased hostilities. President Obama should have acted at the first evidence of Russia's military incursion into Ukraine, and even Trump's aid is a small step compared to President Bush's 2008 proposal to move Kiev quickly toward NATO membership. Nonetheless, every independent state that emerged from the Soviet Union, NATO member or not, is obsessed with how America handles Ukraine. They should be, because the Kremlin's calculus about their futures will almost certainly turn on whether Trump draws a line on Moscow's adventurism in Ukraine.
Just as troubling as Russia's menace in Eastern and Central Europe is its reemergence as a great power player in the Middle East. Just weeks ago, the Russian Duma ratified an agreement greatly expanding Russia's naval station at Tartus, Syria. In 2015, Obama stood dumbfounded as Russia built a significant air base in nearby Latakia, thus cementing the intrusion of Russia's military presence in the Middle East to an extent not seen since Anwar Sadat expelled Soviet military advisers and brought Egypt into the Western orbit in the 1970s.
This expansion constitutes a significant power projection for the Kremlin. Indeed, it seems clear that Russia's support (even more than Iran's) for Syria's Assad regime has kept the dictatorship in power. Russia's assertiveness in 2017 also empowered Tehran, even as the ISIS caliphate was destroyed, to create an arc of Shia military power from Iran, through Iraq and Syria, linking up with Hezbollah in Lebanon. This Russian-Iranian axis should rank alongside Iran's nuclear-weapons program on America's list of threats emanating from the Middle East.
Finally, the pure folly of both the U.N. Security Council and the General Assembly crossing the United States on the Jerusalem embassy decision was a mistake of potentially devastating consequences for the United Nations. Combined with the International Criminal Court's November decision to move toward investigating alleged U.S. war crimes in Afghanistan, there is now ample space for the White House to expand on the president's focus on protecting American sovereignty.
Trump's first insight into the rage for "global governance" among the high minded came on trade issues, and his concern for the World Trade Organization's adjudication mechanism. These are substantial and legitimate, but the broader issues of "who governs" and the challenges to constitutional, representative government from international bodies and treaties that expressly seek to advance global governing institutions are real and growing. America has long been an obstacle to these efforts, due to our quaint attachment to our Constitution and the exceptionalist notion that we don't need international treaties to "improve" it.
No recent president has made the sovereignty point as strongly as Trump, and the United Nations and International Criminal Court actions in 2017 now afford him a chance to make decisive political and financial responses in 2018. If 2017 was a tumultuous year internationally, 2018 could make it seem calm by comparison.
This article first appeared in The Hill
John R. Bolton (@AmbJohnBolton) served as U.S. ambassador to the United Nations and as undersecretary for arms control and international security affairs at the U.S. Department of State under President George W. Bush. He is now a senior fellow at the American Enterprise Institute.
Source: https://www.gatestoneinstitute.org/11633/expect-america-tensions-with-china-and-russia-to
Follow Middle East and Terrorism on Twitter
Copyright - Original materials copyright (c) by the authors.