​ by Joseph A. Wulfsohn
CNN, MSNBC, ABC, CBS, NBC repeatedly invited the top Democrat during the Mueller investigation
At the center of the recently released report from Special Counsel John Durham was the question of whether there was any merit to launch any investigation into alleged collusion between the Trump campaign and Russia during the 2016 election.
Durham's conclusion was that since the original probe, dubbed Crossfire Hurricane, was based on "raw, unanalyzed and uncorroborated intelligence," the FBI was wrong in fast-tracking a full investigation as then-deputy FBI director Andrew McCabe ordered in July 2016.
While the DOJ was largely silent on its probe, there was no one in Washington as vocal about the existence of "evidence" that proved such collusion than Adam Schiff.
Schiff, the California Democratic lawmaker now running for Dianne Feinstein's Senate seat, was the top Democrat on the House Intel Committee during the Trump administration. And having such a senior role on Capitol Hill allowed unprecedented access to the nation's top secrets, particularly when it comes to foreign adversaries. When he repeatedly claimed that he had seen "evidence" of collusion, many in the media had reason to believe what he said was credible.
RUSSIAGATE GOVERNMENT FIGURES EXPOSED IN DURHAM REPORT WERE REWARDED WITH CUSHY TV GIGS, LUCRATIVE BOOK DEALS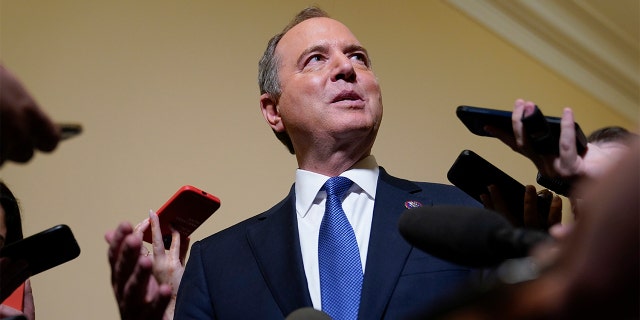 However, both the Mueller probe in 2019 and the Durham probe in 2023 concluded that there was no evidence that such collusion between Trump and Russia ever transpired.
What "evidence" did Schiff see that neither Mueller nor Durham apparently came across in their years-long investigations? That remains unclear. But what is clear is that TV networks rolled out the red carpet for Schiff to peddle Russiagate, often times with little or no pushback.
On March 20, 2017, Schiff attempted to push back on former DNI James Clapper's public assertion he saw no evidence of collusion, telling "Meet The Press" moderator Chuck Todd on NBC there was "circumstantial evidence of collusion" as well as "direct evidence… of deception."
But just three days later, Schiff noticeably ratcheted up his rhetoric in another interview with Todd on MSNBC "MTP Daily."
"Reviewing the evidence that I have, I don't think you can conclude that at all, far from it," Schiff said about Clapper's comments.
CNN'S JAKE TAPPER SAYS DURHAM REPORT IS 'DEVASTATING' FOR FBI AFTER SPENDING YEARS LEGITIMIZING RUSSIAGATE
When Todd pressed whether Schiff was solely relying on a "circumstantial case," Schiff replied "no," insisting the case "is more than that."
"So you have seen direct evidence of collusion?" Todd asked.
"I don't want to go into specifics, but I will say that there is evidence that is not circumstantial, and it's very much worthy of investigation," Schiff responded.
The following Sunday, on CBS' "Face The Nation," Schiff was asked whether he had seen any intelligence showing collusion regarding an effort to spread misinformation about Hillary Clinton. Schiff sidestepped the question but defended the foundation of the FBI's investigation as "justified" and it had a "sufficient basis" to begin and continue, something Durham concluded otherwise in his report. He went on to say that he disagreed with his GOP colleagues asserting there was no evidence of collusion, telling CBS anchor John Dickerson, "I don't think that's accurate, and I have an obligation to say so."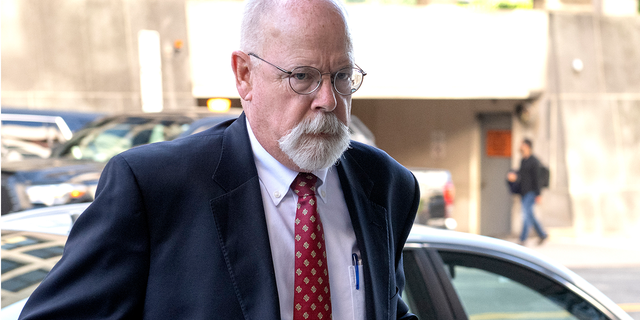 In October 2017, Schiff touted the now-infamous Steele dossier, the Clinton campaign-funded memo put together by ex-British spy Christopher Steele that laid out salacious and unfounded accusations about then-candidate Trump and his alleged ties to Russia, telling ABC's George Stephanopoulos that "a lot of that has been corroborated" and Steele "may have found out even before our own intelligence agencies that the Russians were in fact aiming to help Donald Trump in the election."
Earlier that year, Schiff read some of the dossier into the congressional record.
In November 2017, Schiff teased to MSNBC's Rachel Maddow, who noted that "collusion" is not a legal term, that they're "very close to a prosecutable case" against the Trump campaign regarding the conspiracy statute but added that "they're still pieces that we need to find."
MSNBC'S NICOLLE WALLACE REJECTS DURHAM REPORT SINCE HER CAREER 'WAS BUILT UPON A FRAUD' IN RUSSIAGATE: CRITICS
In December 2017, after former Trump national security adviser Gen. Michael Flynn pleaded guilty for lying to the FBI about his communications with Russians during the transition, Schiff called it the "most palpable evidence of collusion in terms of violating the Logan Act," though he conceded it would "likely not be prosecuted."
The following week, CNN's Jake Tapper pointed out how there hasn't been an "actual connection" or "proof" of collusion. Schiff pointed to what he called the "pattern and the chronology" of the various interactions between members of Trump's circle and Russians.
"We do know this: the Russians offered help, the campaign accepted help, the Russians gave help and the president made full use of that help. And that is pretty damning whether it is proof beyond reasonable doubt of a conspiracy or not," Schiff told Tapper, who later tweeted out the interview writing "On #CNNSOTU @RepAdamSchiff says evidence of Russian collusion is 'damning.'"

On #CNNSOTU @RepAdamSchiff says evidence of Russian collusion is 'damning'https://t.co/Dtf9PcTvjk

— Jake Tapper, long-suffering Philly sports fan (@jaketapper) December 10, 2017
When asked by Tapper in a March 2018 interview whether Democrats have seen evidence of collusion, Schiff replied, "Yes, we have."
It wasn't until halfway through 2018 when Schiff's talking points shifted from saying he had seen evidence of collusion to asserting there's evidence "in plain sight," a linguistic sleight of hand indicating there was nothing else hidden and that any alleged proof was already in the public domain.
In August 2018, Schiff told CBS' Margaret Brennan there's "plenty of evidence of collusion or conspiracy in plain sight." In January 2019, Schiff told CNN's Alisyn Camerota there is "clear evidence on the issue of collusion" while acting notably less certain about accusations of conspiracy. The following month, he told CNN's Dana Bash "you can see evidence in plain sight on the issue of collusion."
He similarly told ABC's Stephanopoulos "to not see what's plainly in front of us means you basically don't want to see the evidence of collusion because it is quite abundant." In early March 2019, Schiff claimed to Brennan the emails involving the 2016 Trump Tower meeting involving Donald Trump Jr. and a Russian lawyer are "direct evidence" of collusion.
MEDIA RUSHES TO DISMISS DURHAM FINDINGS THAT FURTHER DEBUNKED BELOVED RUSSIAN COLLUSION NARRATIVE
Even after the conclusion of the Mueller report, which found no evidence of collusion, Schiff remained defiant. In late March 2019, after then-Attorney General William Barr released a summary of the Mueller report that declared there wasn't any collusion, Schiff doubled down, saying there was "ample evidence of collusion in plain sight," stressing that's "not the same thing as" proving a conspiracy, which is the crime.
"I distinguished between the two probably dozens of times," Schiff asserted to then-CNN anchor Chris Cuomo.
The next month, when asked on MSNBC's "Morning Joe" whether he was "wrong" to say there was "direct evidence" of collusion, he replied "no," saying what's been in the "public record" is direct evidence of collusion. Days later, Schiff sidestepped a question from Tapper over whether he regrets "anything" he said in recent years about collusion. He offered the same sentiment in July 2019 while being grilled by then co-host of "The View" Meghan McCain, who demanded to know what his evidence was. He told her "I've also been saying… the evidence is in plain sight, not hidden anywhere."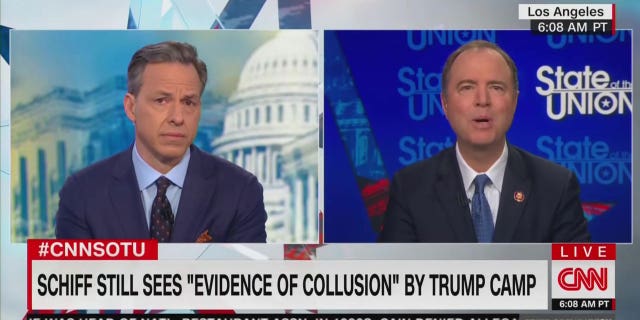 In November 2021, Schiff was similarly confronted by "The View" guest host Morgan Ortagus over whether he had any reflections for his promotion of the now-debunked Steele dossier, but he called the premise of the question a "smokescreen" to "shield Donald Trump's culpability for inviting Russia to help him in the election."
Following the release of the Durham report, Schiff called the investigation a "big bust" and that any attacks by the GOP towards him are retaliatory over his roles in leading Trump's impeachment as well as the Jan. 6 committee.
Liberal MSNBC host Alex Wagner chose to not ask him about his repeated claims of collusion and instead praised him by saying "I think a lot of people are very deeply appreciative of what you've done in Congress" and that any effort to oust him are "for reasons that have nothing to do with anything other than jealously that you're effective at your job."
Fox News Digital sent inquiries to CNN, MSNBC, ABC, CBS and NBC asking all of them whether they regret having Schiff on-air so frequently throughout Russiagate and whether they will reevaluate inviting him on their programs. None of them responded.
Schiff's office also did not respond to Fox News Digital's inquiries including whether he regrets saying he had seen "direct evidence" of collusion, whether he regrets giving credence to the Steele dossier and whether he acknowledges Durham's conclusion that Crossfire Hurricane was launched based on "raw, unanalyzed and uncorroborated intelligence."

Joseph A. Wulfsohn is a media reporter for Fox News Digital. Story tips can be sent to joseph.wulfsohn@fox.com and on Twitter: @JosephWulfsohn.
Source: https://www.foxnews.com/media/before-durham-report-tv-networks-allowed-russiagate-booster-adam-schiff-claim-evidence-collusion
Follow Middle East and Terrorism on Twitter