by MEMRI
According to reports on several TV channels, the Iraqi forces have uncovered a network of tunnels dug by ISIS under the city of Fallujah. The tunnels, which in some cases reach a length of seven kilometers, are part of the ISIS fortifications and were used to store equipment, weapons, and IEDs, and as shelter from airstrikes. Reports on the tunnels were broadcast by the UAE channel Alaan TV on May 14 and by Russia Today on May 31.

Alaan TV [UAE], posted on May 14, 2016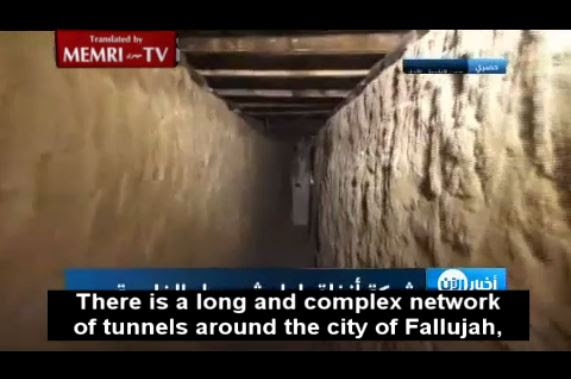 Reporter
: "There is a long and complex network of tunnels around the city of Fallujah, and under the homes that were taken over by ISIS. The tunnels are part of the fortifications on the outskirts of Fallujah, and they were dug by ISIS militants in order to move around, and to take shelter from the airstrikes and the attacks by the Iraqi forces."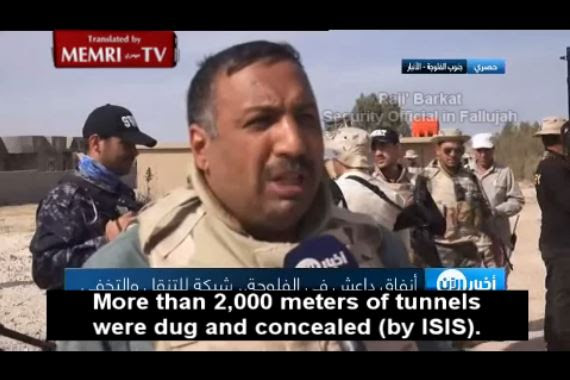 Raji' Barkat, Security Official in Fallujah
: "More than 2,000 meters of tunnels were dug and concealed [by ISIS]. They used the tunnels to move their fighters from one house to another, out of fear of the planes and the military vehicles."
Reporter
: "In some places, these tunnels reach two meters in depth. ISIS also used them as military operations command centers during the battles."

Russia Today TV, posted on May 31, 2016
Reporter
: "There has been much talk about the tunnels dug by ISIS in areas under its control. We were surprised to find a long tunnel here, two km from the entrance to Fallujah, inside a building and under a courtyard full of trees.
"The Iraqi forces discovered a very long network of tunnels, stretching from here to other areas, and equipped with electricity. The Iraqi forces found equipment, weapons and IEDs here. According to confirmed information, some tunnels are over seven km long.
"According to Iraqi forces in the area, this long tunnel is connected to another network of tunnels, which reaches the Jordanian Hospital in northern Fallujah. The tunnels were dug with a great deal of precision, and they are equipped with electricity so they can be used at all times. Iraqi forces destroyed some parts of the network of tunnels, out of fear that ISIS fighters might use them again."
MEMRI
Source: http://www.memritv.org/clip/en/5500.htm
Follow Middle East and Terrorism on Twitter
Copyright - Original materials copyright (c) by the authors.