​
by Aiden Pink
Hat tip: Dr. Jean-Charles Bensoussan
The "new look" in Congress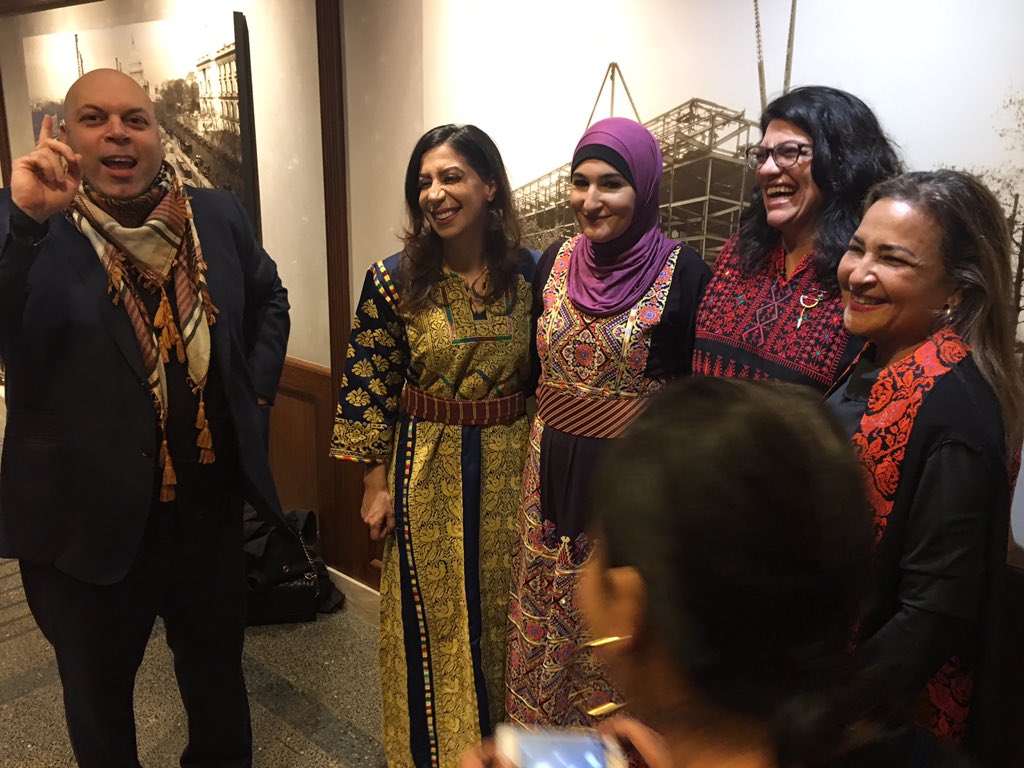 As Rashida Tlaib prepared to be sworn in as the first Palestinian-American congresswoman on Thursday, she wore a traditional Palestinian robe — and was joined by activist Linda Sarsour.

"It's a national holiday, I'm doing no work today," Sarsour, who is also Palestinian-American, said in a video she posted on Facebook. "You're witnessing history today," she added.
Tlaib, Sarsour and others in attendance outside her office were wearing a thobe, a traditional Palestinian robe. Tlaib wrote in Elle magazine that she was wearing the thobe to honor her mother, a who dropped out of school in the West Bank in eighth grade and worked as a tailor. "It fills me with joy to be able to show aspects of Palestinian culture," she wrote. Dozens of other people have posted pictures on social media of themselves wearing thobes in honor of the occasion.

Tlaib, a Democrat from Michigan, is believed to be the first Democratic member of Congress to endorse the one-state solution to the Israeli-Palestinian conflict. She has also said she supports the boycott, divestment and sanctions campaign against Israel and has called for cuts to U.S. military aid to the Jewish state, all of which have led her to be criticized by Jewish groups.
Sarsour, one of the most prominent Muslim-American activists in America, is best known for her co-leadership of the Women's March. She apologized in November for the organization's handling of accusations of anti-Semitism and her and other leaders' ties to the Nation of Islam leader Louis Farrakhan. Another Women's March co-founder, Bob Bland, was also in attendance in front of Tlaib's office.

Justin Amash, a Republican also from Michigan, became the first Palestinian-American congressman in 2011.

Contact Aiden Pink at pink@forward.com or on Twitter, @aidenpink
Aiden Pink
Source: https://forward.com/fast-forward/416979/rashida-tlaib-and-linda-sarsour-wear-palestinian-robes-to-congress/?attribution=blog-article-listing-1-headline
Follow Middle East and Terrorism on Twitter