​ by Nitsan Kedar
Israeli PM Benjamin Netanyahu is expected to depart tonight to the US, where he will address the UN and meet with world leaders.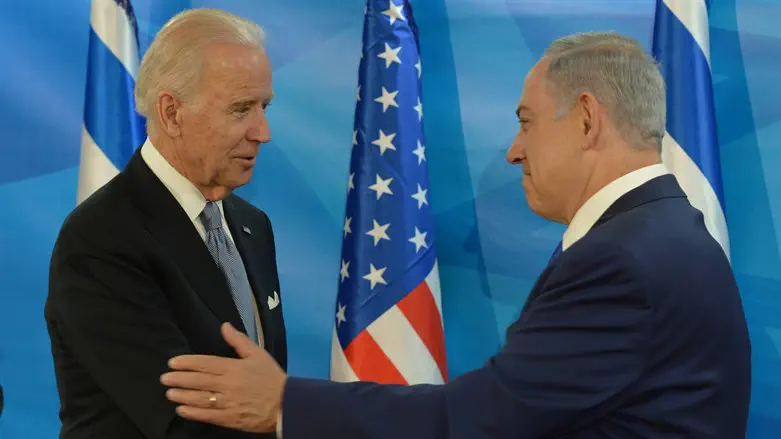 Biden and Netanyahu Amos Ben Gershom/GPO
Israeli Prime Minister Benjamin Netanyahu will depart on Sunday night to the United States, where he will address the United Nations General Assembly in New York and meet with US President Joe Biden.
The meeting with Biden is being held in New York, to the displeasure of Netanyahu, who was hoping to be invited as an official guest of the White House. The American side wishes to deal with three central issues. The first issue is the normalization of relations with Saudi Arabia - despite reports that the Saudis are seeking to slow the negotiations. The next issue is the American demand for additional concessions for the Palestinians, the strengthening of the PA, and the opening of a US consulate in Jerusalem for Palestinian Arabs, a move that Israel vehemently opposes.
US National Security Advisor Jake Sullivan said over the weekend that one of the central issues that will be discussed during the meeting is the political situation in Israel and the need to change direction. According to Sullivan, Biden will discuss the democratic values that the two nations share. The Israelis predict that Biden will pressure Netanyahu to calm tensions by suspending or stopping the government's judicial reform legislation.
During his visit, the Israeli Prime Minister is also expected to meet with additional leaders, including German Chancellor Olaf Schulz, Turkish President Recep Tayyip Erdoğan, Ukrainian President Volodymyr Zelenskyy, and UN Secretary-General António Guterres.
Netanyahu will address the UN General Assembly at 4:00 PM IDST/9:00 AM EDST.

Nitsan Kedar
Source: https://www.israelnationalnews.com/news/377098
Follow Middle East and Terrorism on Twitter