​
by
Daniel Pipes
Muslims show increasing indifference to the breakdown in Palestinian-Israeli diplomacy, but Leftists express growing anger over it.
As Arabs and Muslims warm to Israel, the Left grows colder. These shifts imply one great imperative for the Jewish state.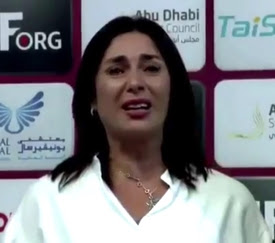 Miri Regev, Israel's minister of culture and sports, cried as "Hatikvah" played in Abu Dhabi to celebrate judoka Sagi Muki's victory.
It is striking to note that full-scale Arab state warfare versus Israel lasted a mere 25 years (1948-73) and ended 45 long years ago; and that Turkey and Iran have since picked up the anti-Zionist torch.
That Arab and Muslim enmity has fractured, probably never to be reconstituted, amounts to one tectonic shift in the Arab-Israeli conflict. The second, no less important, involves the global Left's growing hostility to Israel.
An All India Kisan Sabha rally. Note the hammer and sickle.
The Shimon Peres Negev Nuclear Research Center at Dimona: not the source of Israel's public relations problems.
Therefore, when the Left, now largely excluded from power, eventually returns to office in countries like Japan, India, Germany, France, the United Kingdom, and the United States, Israel will face a crisis due to the unresolved situations in the West Bank and Gaza.
Accordingly, a resolution of this issue should be an utmost priority for Israelis.
Daniel Pipes
(
DanielPipes.org
,
@DanielPipes
) is president of the Middle East Forum.
© 2018 by Daniel Pipes. All rights reserved.
Source:
http://www.danielpipes.org/18644/tectonic-shifts-in-attitudes-toward-israel
Follow
Middle East and Terrorism on Twitter