by Bradford Betz
Medical professionals have told Fox News they have seen rates of gender dysphoria skyrocket among young people in recent years
The majority of Americans do not support transgender surgeries or anti-puberty blockers for minors, according to a poll from a conservative nonprofit organization.
The survey asked respondents whether they would support a ban on puberty blockers, cross-sex hormones, and physical sex-change surgeries for children under 18.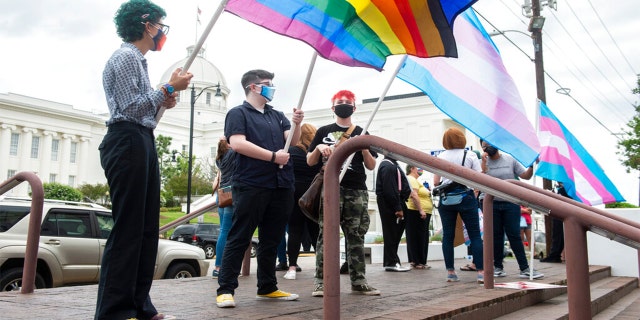 56% of respondents said they would support a ban, while 34% said they would not. A little over a third of those respondents identified as Democrats, while 37% identified as Republicans, and just under a quarter identified themselves as Independents, according to the survey by the American Principles Project Foundation.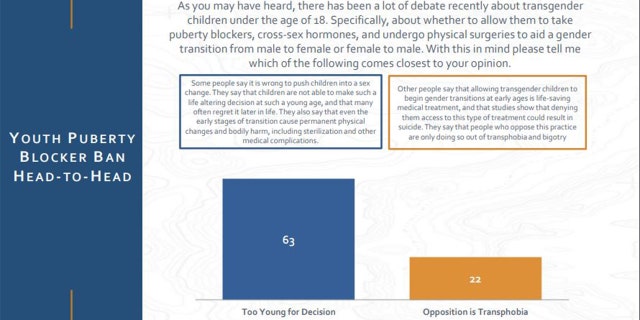 In another question, respondents were asked whether they supported or were against children being pushed into a sex change. Around 63% of respondents agreed that children were too young for the decision. Around 22% of respondents believed that opposition to gender transitioning was transphobic.
RACHEL LEVINE'S CLAIM ALL AGREE ON 'GENDER-AFFIRMING CARE' IS SLAMMED BY DOCTORS 'IN HIDING'
The poll was conducted by OnMessage Inc. for American Principles Project (APP) in six Senate battleground states – Georgia, Arizona, Wisconsin, Pennsylvania, Nevada, and New Hampshire – targeted likely general election voters via telephone. The margin of error for the survey was +/- 2.82%.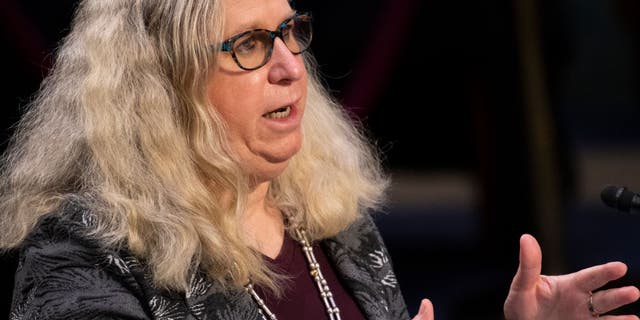 Medical professionals have told Fox News they have seen rates of gender dysphoria skyrocket among young people in recent years, but that many of their colleagues are reluctant to speak publicly against transgender ideology for fear of both professional and personal retaliation.
Assistant Secretary for Health Rachel Levine, who is the highest-ranking transgender person in the U.S. government, made headlines last month for claiming during an interview with NPR that "there is no argument among medical professionals – pediatricians, pediatric endocrinologists, adolescent medicine physicians, adolescent psychiatrists, psychologists, etc. – about the value and the importance of gender-affirming care."
While many medical associations have embraced various procedures for kids who identify as transgender and are diagnosed with gender dysphoria, some doctors have warned against the use of hormone treatments that have not been approved for gender dysphoria by the Food and Drug Administration (FDA).
Most hormone treatments "are only FDA approved as puberty blockers in children for the purpose of treating central precocious puberty and not for gender dysphoria," Dr. Michael Laidlaw, an independent private practice endocrinologist in Rocklin, Calif., told Fox News in Dec. 2021.
"Central precocious puberty is a medical condition in which a child starts puberty at an abnormally young age, say age 4," Laidlaw explained. "Medications like Supprelin LA are used to stop this abnormal puberty. Then once the child reaches a typical age for puberty (say age 11 or 12), the medication is stopped, and then normal puberty will resume."
"The off-label use of these medications for gender dysphoria is completely different," the endocrinologist added. "In this case the healthy child has already begun normal puberty. But then the medication is given to block normal puberty. Blocking normal puberty has numerous unhealthy side effects including loss of normal bone development, interference with normal brain and social development, and importantly causes infertility and sexual dysfunction. Many of these effects will be irreversible."
Fox News' Jon Brown and Tyler O'Neil contributed to this report.
Bradford Betz is a reporter for Fox News Digital. Story tips can be sent to bradford.betz@fox.com and on Twitter: @Bradford_Betz.

Source: https://www.foxnews.com/politics/americans-oppose-transgender-surgeries-anti-puberty-blockers-for-minors-poll
Follow Middle East and Terrorism on Twitter