by Veli Sirin
Erdoğan is apparently determined to impose a new political system on Turkey, replacing the parliamentary order with a state under a powerful president.
The constitution authorizes the president to call a cabinet meeting under certain circumstances. Otherwise, the president has no executive authority.
"[T]housands of children whose parents preferred secular institutions have been allocated places at Islamic schools." — Daniel Dombey, Financial Times.
Abuses of power will likely continue in Erdoğan's Turkey.
Recep Tayyip Erdoğan was elected Turkey's first directly elected President on August 10, representing the Justice and Development Party (known by its Turkish initials as AKP). He had served the Islamist AKP as Turkey's Prime Minister continuously since 2003. He was sworn in as President on August 28.
As pointed out by Daniel Dombey reporting from Istanbul in London's Financial Times and published the day the Erdoğan presidency began, "Mr. Erdoğan remained prime minister right up until taking the office of president: both offices provide their holder with immunity from prosecution. Turkey's official register also held off publishing the results of his election as president -- which according to some of his opponents would have necessitated his resignation as prime minister -- until the day of his inauguration."
Dombey attributed Erdoğan's tight hold on power during the transition to the new President's fear of the country's judiciary. Erdoğan and his circle have diverged sharply from the Muslim preaching movement of Fethullah Gülen, their former close ally. Members of the AKP accuse Gülen's followers of infiltrating the police and courts, and using them to embarrass Erdoğan with allegations of financial misconduct.
Dombey further wrote on September 7, that "barely a week after taking the oath of office," Erdoğan is reviving Ottoman customs to replace those of the secular Turkish Republic founded in 1923, and is promoting religious education.
"In the most symbolic break with the past," according to Dombey, "Mr. Erdogan announced last week that he would not work out of the Çankaya Palace, the seat of the presidency since the era of Mustafa Kemal Atatürk, who founded the modern Turkish state. Meanwhile, Turkish newspapers report that thousands of children whose parents preferred secular institutions have been allocated places at Islamic schools."
Erdoğan's presidential predecessor, Abdullah Gül, remains inside the AKP -- for now -- but without a political post. Gül had positioned himself as a moderate, distant from some of Erdoğan's authoritarian rhetoric and actions in government, although Gül disappointed Turkish dissenters by signing restrictions on the Internet into law. Gül had been critical publicly of Erdoğan's wild attacks against social media, mainly expressed in an official shutdown of Twitter, but also affecting Facebook and YouTube. Gül was described by the prominent Turkish columnist Semih İdiz, in Al-Monitor, as bearing a "grudge" against Erdoğan after the presidential balloting.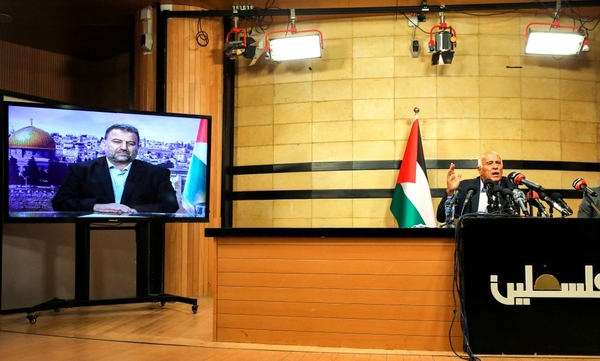 Abdullah Gül (right), the presidential predecessor to Recep Tayyip Erdoğan (2nd from left), along with their wives, in a happy moment. (Image source: YouTube video screenshot)
Erdoğan's successor in the Prime Minister's post will be his former Foreign Minister, Ahmet Davutoğlu. The accession by Erdoğan to the presidency, and the fall of Gül, was more than a reflection of personal rivalry. Erdoğan is apparently determined to impose a new political system on Turkey, replacing the parliamentary order with a state under a powerful president. During the election campaign, he made it clear that strengthening the presidency -- and his own power -- was his goal.
But as Voice of America correspondent Dorian Jones wrote on August 25, the AKP "needs to secure a two-thirds parliamentary majority in next year's general election in order to change the constitution to turn Turkey from a parliamentary to a presidential system."
The Turkish public appeared to have made its decision, voting for Erdoğan by 52% against two opposition candidates: Ekmeleddin İhsanoğlu, a conservative Muslim academic and secretary-general of the Organization of Islamic Cooperation [OIC] from 2004 to the beginning of this year, and Selahattin Demirtaş, a Turkish-Kurdish advocate.
İhsanoğlu, notwithstanding his Islamic credentials, received 38% of the ballots, representing a 13-party coalition, headed by the secularist People's Republican Party (CHP according to its Turkish-language name), as reported in the London Guardian on August 10. Demirtaş gained 9.7%.
The Guardian also noted that turnout was low. Two days after the presidential vote, journalist Deniz Zeyrek observed unease in CHP with the "inappropriate" choice of the religiously-oriented İhsanoğlu as the opposition standard-bearer. Zeyrek wrote, "There is a widely held argument that many secular and urban middle-class voters who were on vacation at the time of the election did not interrupt their holiday to return to their polling stations because they did not approve of İhsanoğlu's candidacy."
An editorial in the Saudi Gazette on August 12 remarked on the low Turkish election turnout: only 73% participation, compared to 90% in the March parliamentary elections.
Erdoğan's latest success opens the way to widespread changes in Turkey. After his eleven years as Prime Minister, many Turks have benefited from economic improvement. But his striving for absolute power and the tendency to rage against his opponents are felt intensely by the Turkish public, and many Turks are afraid of him.
For those who idolize Erdoğan, however, allegations of corruption, nepotism, and disregard for the separation of political and judicial power within the state were no reason to refuse his continued approval. Turkey under a stronger Erdoğan presidency may become more Islamic, more neo-Ottoman, and more directed to the East rather than the West.
Although Erdoğan's dream of the presidency was realized, and former president Gül has been sacrificed, Erdoğan has polarized Turkey's 76 million people more than any of his predecessors.
As defined by the current (1982) Turkish Constitution, in Articles 105 through 112, the president is mainly a figurehead, whose office "represents" the country and nation, while "implementation of policy" remains in the hands of the council of ministers and its chief, the prime minister. The constitution authorizes the president to call cabinet meetings, but this prerogative is reserved for special circumstances. Otherwise, the president has no executive authority. This may not turn out to be sufficient for the ambitions of Erdoğan, who might wish to refashion the Turkish state as he redesigned Istanbul. He has made the latter city, which is the former Ottoman capital, the unacknowledged present-day capital of the country, in place of Ankara, the capital since the proclamation of the republic more than 90 years ago.
In its rhetoric, the AKP claims it desires a presidential republic like the American example. But Turkey is a centralist state from which the concept of checks and balances found in the U.S. is absent. The Ankara parliament has only one house; elsewhere power is concentrated, not dispersed through differing branches and agencies. As president, Erdoğan seems anxious to rule, rather than to represent, Turkey.
On August 29, VOA's Dorian Jones emphasized that after his first speech as president, Erdoğan "will be seeking to rewrite the constitution." Jones added that no Western European political leader attended Erdoğan's swearing-in, and cited Soli Özel of Kadir Has University in Istanbul, who said Erdoğan faces Western fears that Turkey is oblivious to the use of its soil for transit by jihadists joining the so-called "Islamic State" in Syria and Iraq. Özel remarked of the AKP, "everything it has done in the last four years has undermined [Turkey's] standing in the world."
If, as he did when he was prime minister, President Erdoğan attempts to direct day-to-day politics, he may be challenged by the Turkish Constitutional Court, to block a change in the constitution that would give the presidency more power.
Will Erdoğan, having brought the military, police, most of the mass media, and the lower levels of the judiciary under his extended coordination, now seek to undermine the Constitutional Court? And should he do so, will he succeed?
That question cannot be answered yet. But abuses of power will likely continue in Erdoğan's Turkey, especially given the weakness of the opposition. Turkey will wait for new developments when the next parliamentary elections are held the summer of next year.
Veli Sirin
Source: http://www.gatestoneinstitute.org/4685/president-erdogan-turkey
Copyright - Original materials copyright (c) by the authors.